In order for processes in the chemical industry to run smoothly, the water used has to meet certain requirements. Batch problems can be avoided by means of continuous monitoring and adjustments. The chemical industry is a key supplier of raw materials for a wide variety of sectors, including the production of cars, paints and adhesives. Stable process conditions and consistent quality are an absolute must.
At Hach, we understand your needs when it comes to maximizing the efficiency and effectiveness of your boiler/cooling and wastewater processes.
We know you are always looking for new methods to minimize corrosion, reduce fouling, save energy, reuse water, and minimize down time; most importantly, comply with the growing environmental regulations.
We provide tailor-made process water and wastewater monitoring solutions to assist in improving operation by achieving higher safety standard, reliability, lower cost, and fulfilling the most demanding environmental requirements of the chemical & Refining industry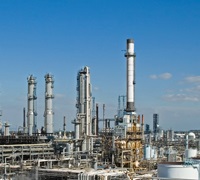 We provide our expertise in
Influent Water Treatment
Condensate
Boiler Feed Water
Cooling Water
Wastewater
Water recycling & Reuse
Protect valuable capital assets
Effluent compliance
Improve energy efficiency and maximize output
Advanced monitoring and control technology
With more than 60 years as the leading expert in water quality analysis, you can trust Hach to address your unique needs for the water applications throughout your entire chemical plant or refinery.