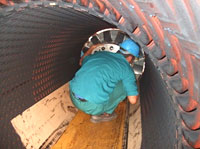 The power generator stator cooling system is a group of small diameter copper tubes (strands) that carry water around the generator stator windings. Corrosion in the system is exhibited as copper oxide flakes in the strands reducing water flow and inhibiting the cooling efficiency of the system. This leads to degrading of the generator and eventually may necessitate cleaning or replacing the strands. Plugged strands often lead to winding "hot spots" which can ultimately cause generator failure.
Hach India – Leaders in water quality analysis, provide equipments that help monitor stator water cooling systems.
Image Left: Corrosion in the stator cooling systems of power generators is a primary source of maintenance costs and plant downtime
Image Below: Stator cooling water system: Alkaline injection type.