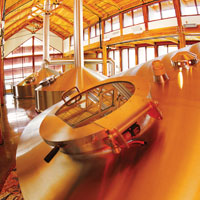 At Hach, we understand your water needs when it comes to ensuring the highest levels of product quality, consistency and safety. Since 1947, Hach Company has designed, manufactured, and distributed world class instrumentation, test kits, and reagents for testing water quality in a variety of beverage industry applications, including influent, Clean-In-Place (CIP), and effluent water treatment.
We invite you to take a look at our comprehensive line of product solutions and services. They're the most accurate and dependable products you can buy.
Hach offers:
On-line process instrumentation and reagents
Laboratory equipment, reagents, and supplies
More EPA-approved methods than any other company
Portable test kits and field instruments
Automatic samplers and flow meters
Local sales and service teams
Service partnership programs and customized training
Accurate determination of parameters such as: alcohol, CO2, O2, color, organic acids, and pH is important for quality control in the brewing and beverage industries. 
Dissolved gas levels can affect both flavour stability and consumer appeal. Accurate CO2 and O2 analysis allows the brewer to control the process so that the flavour stability of the beer can be greatly extended.
Also, creating the highest quality beverages begins with the right water quality. Monitoring water quality ensures that your flavour doesn't have seasonal fluctuations due to a changing water supply. Our water monitoring instrumentation is the global industry standard for drinking water analysis.
Besides that, HACH has a long history of providing high quality products and support for wastewater applications. Trust us to help make sure you are optimizing your processes and meeting your consent limits.